The Son of Sobek is a short story paperback version of The Serpent's Shadow with the guest appearance of Percy Jackson as "Camper Boy."  It is narrated by Carter Kane, from the Kane Chronicles (Not Percy as some people think), also by Rick Riordan.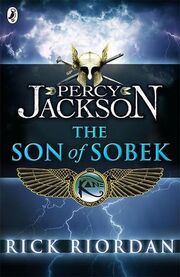 A huge crocodile has swallowed Carter Kane, who lies in his stomach trying to figure out how to escape. The crocodile then spits Carter out, after the crocodile is jabbed in the rear with a sword. It then leaves quickly after that. Carter picks himself up off the ground and sees another teenager in the mud standing beside him. The boy is wearing an orange T-shirt that says 'Camp' but the rest is unreadable. Carter tells him that he has been to all of the North American Nomes and met most of their magicians, but had never seen this boy before. He could tell, this guy could see his wand and kopesh. Carter looks for his wand but doesn't see it, thinking the camper boy is a magician. Carter assumes that the boy had left it in the Daut. The teenage "camper boy," who is actually Percy Jackson, has a double-edged sword that glows faintly, which Carter finds a little weird. Percy then asks Carter if he was a son of Ares and what had bent his sword. Carter replies in an angry tone saying that it was supposed to be bent and says he had the situation under control, to which Percy mockingly agrees. Percy then states that the crocodile had been terrorizing Long Island—which Percy says is his 'home turf'—for a week. Percy then makes the mistake of calling Carter a 'half-blood,' which Carter (being of mixed races, his mother white and his father African American) takes offense to. He thinks Percy insulted him, which Percy had not intended. In a state of anger, Carter punches Percy with the Fist of Horus, which he had been planning to use to break out of the crocodile's belly. He was telling Percy this, and says "fist" but it comes out in Egyptian and the symbol glows above him. Then it launches itself at Percy Jackson. Carter notes, at the end of this short part released early, that it started more trouble than he had imagined. 
Read it here
Edit
http://www.epubbud.com/read.php?g=XSBBAWV2&p=7
The audiobook is narrated by author Rick Riordan.
It is about 40 pages long and on the back of The Serpents Shadow. 
It's e-single has been already released today, June 18, 2013. The sneak peek of The House of Hades is also provided in this e-single.